The New Cambridge English Scale
21.01.2015

Hi everyone and welcome back to another exciting year of study and adventures!
2015 is a very exciting year for Langports English Exams Centre, as we say goodbye to the old version of the Cambridge FCE and CAE exams and hello to a new updated version of the exam and results statements.
Let me give you a little more information —
Both the FCE and CAE exams have been shortened and now the Use of English part is no longer a separate part of the exam. So now Reading and Use of English is a combined paper and the first part of the paper that you will sit. The next change is to the Writing paper where Part one is now a compulsory essay and Part two has a choice of 3 options. Listening has stayed the same and has no major changes.
Because there is now one less part to sit on the exam day, it means that your whole exam day has been shortened and, in some circumstances, you could finish all of your exams by lunchtime!
The next change is the way that your results will be interpreted and published. This has all been adapted with the Cambridge English Scale. Yes, it is a little confusing but I will try to explain as best I can.
The Cambridge English Scale is the new approach to reporting results across all of the available Cambridge exams. Candidates will continue to receive a Statement of Results and a certificate, and both will contain the candidate's:
Score on the Cambridge English Scale for each of the four skills (Reading, Writing, Listening and Speaking)
Score on the Cambridge English Scale for the overall exam
Grade (A,B,C) for the overall exam
CEFR level for the overall exam
It really is just a more detailed version of what candidates have received in the past.
Below is an image of what the CEFR (Common European Framework of Reference for Languages) chart looks like with the First, Advanced and Proficiency against it so that you have a better idea of what it looks like. If you would like more information I would also have a look at the Cambridge English website, which gives a breakdown of each exam and its updated parts.
Please come and have a chat with me when I am at your campus or send me an email if you would like any further information.
Renae – Centre Exams Manager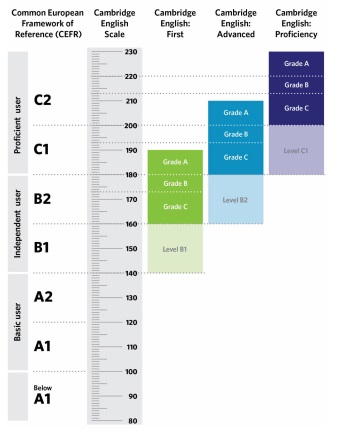 Picture from: Cambridge English website — http://www.cambridgeenglish.org