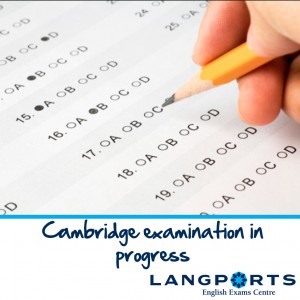 Which exam is the right one for you?
28.01.2015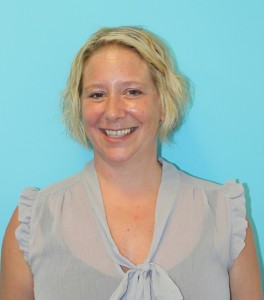 Hello everybody. I am Katie, the Assistant Director of Studies at the Brisbane campus. There are many English language tests to choose from and it can be difficult to decide which exam will be most useful for you. This a quick guide to the exams that we offer here at Langports, and how these can be used to assist you with your future study plans.
Cambridge:
The Cambridge exams are one of the most well-known exam tests around the world. Many students choose to take these courses not only to get a certificate to show their level of English, but also to be involved in the intense language courses that inevitably improve your English in general. Although these exams were mainly taken in the past by European students, these days the exam, and the courses, (both closed and flexi courses) are popular with all nationalities. FCE (Cambridge English: First), CAE (Cambridge English: Advanced) are the courses that are offered in all three Langports campuses with the CPE (Cambridge English: Proficiency) offered twice a year at the Brisbane campus.
The exam consists of 4 parts:
Reading and Use of English
Listening
Speaking
Writing
You must achieve an overall grade of 60% or more to pass. These exams can be used to 'wow' your future employers with your extensive English knowledge or to help assist your application for University courses. Your Cambridge result lasts a lifetime so you never need to take the exam again! The CAE exam can now also be used to enter into Universities in English speaking countries.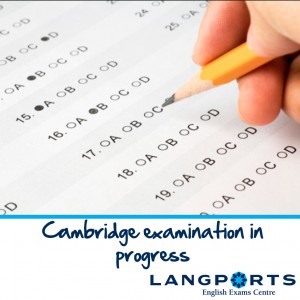 IELTS:
The IELTS exam (International English language Testing System) is also a Cambridge exam but it is more focussed on Academic English rather than General English. This exam is popular with students wanting to study in Universities in an English speaking country. Many Universities have certain English level requirements to enter their courses, and this exam can be used to prove that your English is sufficient for the course. There are four parts to the exam: Reading, Listening, Writing and Speaking. This exam is different from the Cambridge tests above in that you do not fail the exam, but you are given a score from 0.0 — 9.0 (the results are given in increments of.5). You can take this exam as many times as you like until you achieve your required score. This exam result expires after 2 years so if you need to prove your English proficiency to an employer after this time, you would need to take the exam again.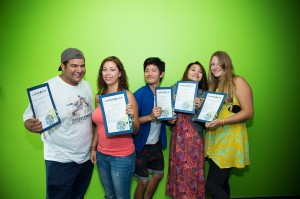 TOEIC:
The TOEIC exam is a slightly different test that looks at Listening and Reading only. Many students prefer this test as you do not have to be graded on your Speaking and Writing skills. The TOEIC exam is a very popular exam in both Asia and France. Employers use this exam to assess the applicant's use of English. You can take the TOEIC test in both the Brisbane and the Gold Coast schools and you can use your result to help find a job in your particular area. The maximum score you can achieve in a TOEIC test is 990, employers will generally ask for a score from the TOEIC test and this will be level they require for that particular role.
So, what do you think? Which exam is the best for you?
Don't forget you can always come to see the DOS or ADOS at your campus or Renae (The Exam Centre Manager) at the GC campus and they will help guide you in the right way to achieve your goals. Good Luck!
Katie – Assistant Director of Studies