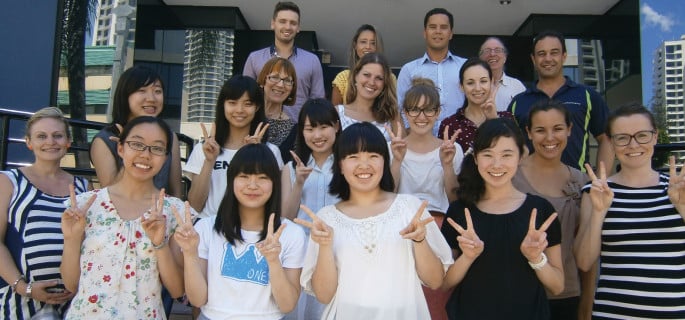 Langports welcomes groups from all around the world!
20.08.2015
Winter time in Australia is summer time in the northern hemisphere when schools/colleges and universities  have their long holidays and can travel overseas to improve their English and just have fun. They come for a short term stay — one , two or three weeks, sometimes up to 5 weeks.
Welcoming groups from everywhere around the world
This July and August Langports Gold Coast welcomed groups from Taiwan, Tahiti, Japan, Russia and the UAE.  A lot of these students are Under 18 years old and so need quite a bit more care and attention than our usual adult students. That's why close interaction with the family members is so important. Langports families are always trying their best to make these short programs unforgettable for our young English learners. It often works well when we place young students from different countries in the same families – that is how they learn, not only about Australian lifestyle, but also about different cultures and languages. We had Tahitians sharing families with Russians, Arabic students sharing families with Japanese students.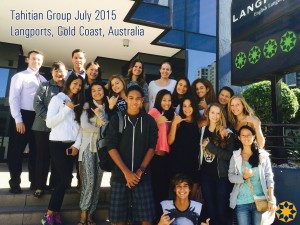 An introduction to the Australian way of life
Their English classes and their activity and excursion program, so well organised by Shane, our Activities Officer, is also an integral part of their program. They visit Currumbin Wildlife Sanctuary, the theme parks, play beach sports, go shopping and a host of other things, but at the end of the day it is often their time spent with their homestay family that leaves the biggest  impact.
At Langports we greatly appreciate our Homestay Families efforts and believe that together we do make a difference in these students'  lives. They promise to come back again, some cry when they are getting on the bus to the airport and they often leave with unforgettable memories of their time with us.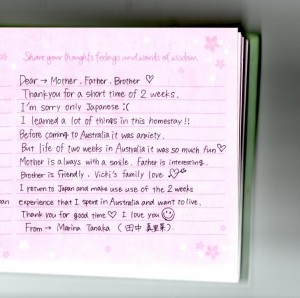 A few words from our homestay families
I've collected some feedback and would like to share some of it with you. Thank you so much to all who shared, I am so grateful I work with so many amazing families :).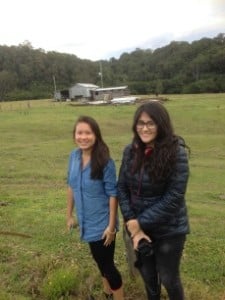 "We really enjoyed having Coralie in our home.  We learnt about Tahitian life and culture and she really embraced Australia and took every chance she could to experience Australia.  She went hot air ballooning and into the hinterland, she saw wildlife at Currumbin Sanctuary and we also took her and another student to Byron Bay for the day where they saw the Lighthouse, the beautiful beaches and then we drove home through the northern New South Wales countryside. "    Sally
"It's been such a fabulous experience for our whole family and extended family. Khaleel has just fitted in with us so well and become another member of our family. His life here has been so different to how he lives at home but I think he has loved the change and enjoyed going to Langports School, spending time at night with his host family, inviting his friends at home on the weekend and experiencing other activities with his friends and leaders. Khaleel has made a wonderful ambassador for his country of which he is so proud, but I think he will leave with a little bit of Aussie about him that will stay with him forever. We all love him lots and will miss him immensely when he leaves."  Martine