My Experience as a Cambridge CPE Student
14.12.2015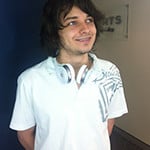 Hi I'm Vinicius. Most memorable experience I remember was the first day of the CPE course. All the new students arrived and there were plenty of different nationalities like Swiss and it was good to get to know other people from around the world.
I like it here at Langports. Besides studying English I have joined their activities like Soccer Practice which is cool, and I go to the pub nights and trips on Saturdays.
I still have few more weeks left and after I graduate from Langports I plan to visit Melbourne and maybe Tasmania and travel around Australia. When I go back home I will probably try and find a job and finish my university.