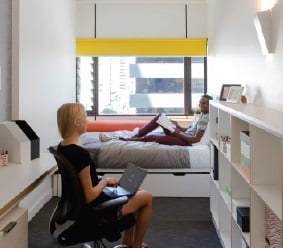 How to successfully search for a room
05.12.2018
In October, I have gone through my first challenge in Australia, which was looking for a room. It required me to focus so much that my brain was always thinking of accommodation. I believe some of you have also gone through this in your life in Australia. After facing this struggle, I have found a perfect room with the perfect roommate, which enhanced my Aussie life a lot! The room search taught me a lot, and today I would like to share some useful points to help you find your perfect room ;).
[1] Use recommended websites.
The room search will be much faster and successful with the recommended websites below *:
Flatmates = https://flatmates.com.au/
REALESTATE = https://www.realestate.com.au
EasyRoomate = https://au.easyroommate.com/
[2] Try to do the inspection at an early stage.
The faster you go see the room, the faster you realize what you really want. Do not wait until you find the room that fits 100% to your image. Go see the actual room to check if the room meets some of your wishes, just to acknowledge what you cannot compromise on. For instance, I visited a room with high expectation. However, there were no window nor the closet in the bedroom. Until then I had not realized that I needed them because I have taken those for granted. From that inspection, I started to look for better options with a more precise idea.
[3] Keep looking for the best room everyday.
Situations can change in the blink of an eye. Everyday there are many people renting rooms and also LEAVING rooms, which means there are always new rooms posted for you each day. Persistence is the key for the success! (As we say the same thing for learning English 😉 !) Keep looking constantly for new or updated post on the webpage mentioned in [1]. If you are busy, even just 5 min search in the morning and the end of the day will do, such as during your commute. In my case, once I was so lazy that I did not looked up for a day. The next day there were more than 50 updates for a new room. The good news in this season is that many students go back to their home country or parents' house and many rooms are becoming vacant. Eventually rent prices go low competitively, so keep your eye on ads every day. **
[4] Make your decisions quickly.
Searching for a room is very competitive. The room you took into consideration can be taken away by someone else in few minutes. Personally, I do not like to take rushed decision. Yet for the room search, I learnt that the faster the better. This can be said to both ways, whether you take it or not. If the room fits your choice, then you should let the owner know you want to take it before others do. Always remember, you are not the only one looking for a room. If you are not sure about the room, go ahead and look for more. There are numerous rooms waiting for you, you will find the one that fits your needs. ***
If you are about to start your room search, I hope these tips will work for you! Do not forget to have your walking shoes on, and the cell phone battery fully charged so that you can search your destination when you go for the inspection 😉 Good luck!
Yuka Nakamura – Intern in the Langports Marketing Team
Related blogs-
How students can make the most of their time here in Australia?- https://www.langports.com/how-students-can-make-the-most-of-their-time-in-australia/
Langports' Student Accommodation – https://www.langports.com/langports-student-accommodation/
Living at Student Central Apartments – https://www.langports.com/living-at-student-central-apartments/