A jump into happiness
08.08.2018
When I finished my last year at the university, I felt that I needed to leave Barcelona to fly and leave the comfort zone. Having graduated in Advertising and Public Relations, make me thought that what I really needed was to improve my level of English. I had the feeling that if I didn't improved the language a thousand doors would be closed, so English in my case is an essential requirement to become a great professional in the future. Finally, the desire to fly took me to Sydney. Coming to Australia has meant to me a big jump.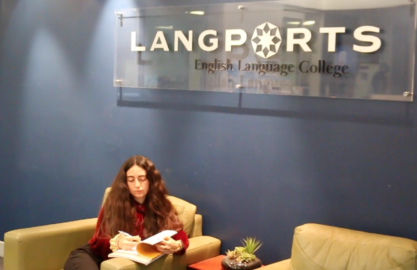 A leap into the unknown, a new place with different people and different culture. A jump to "not knowing what will happen". My cousin had spoken wonderful things about this country so before arriving, I had so many expectations and I must say that all of them have been fulfilled and it was an adventure filled with happiness.
On the first day at Langports, I felt at home. The school transmitted me a  good vibe and even more with all these colorful walls. I had the opportunity to meet every day many beautiful people from different countries and cultures and I could learn interesting things about each of them. And of course, I have made many new friends.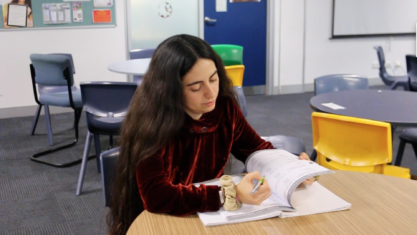 I considered that the learning system of the school is very complete: I have practiced every day  listening, speaking, reading and grammar. So, I considered that each day I learned a little more and to be honest, I feel happy and proud of myself. All teachers have a different learning system, which is why they have teaching me different and interesting things. I did the "full-time course" and sometimes, I thought It could become boring to do all these consecutive hours but after all, you could realize of everything that you have learned, everything counts. The more you speak English, the more you learn. In fact, at first I was going to stay at Langports for four months but finally, I decided to extend my course. When I arrived to Australia I didn't know how to express myself and now, I can have a fluent conversation in English.  One day you realized that now, you can understand the different accents, all these fast conversations, the television. I not only have learned more English, I have learned about people, Australian culture and, above all, about myself. Being away from home you realize many things. You realize that you have the opportunity to observe, explore, grow and above all to mature and grow as a person.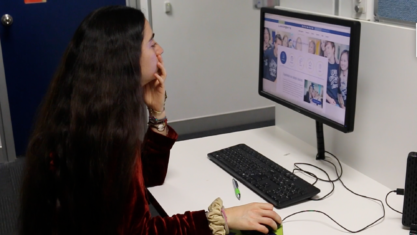 When I arrived at Langports, I decided to work as a Demi-Pair taking care of children in the afternoons. The main tasks I had developed are: taking care of the children and playing with them, putting on and taking out the dishwasher, putting on the washing machine and folding clothes, cooking a little bit and helping with daily little tasks. To be honest, sometimes I didn't feel like I was working for the families, I felt that I was part of the family.  Also, I think it's a good job to combine with the studies; it's just three hours per day and on the other hand, has a very flexible schedule. It's a good option considering that you could save a lot of money and have more free time to know new places. Also if you  live with a family you can practice in English all the day so you can improve your English much faster … you never stop learning.
I thought that living with different Australian families would be great to discover the traditions of this wonderful country. Everything is different comparing with my country: the expressions, the way of interact with each other, the food, you could discover what is a "real Australian barbecue" and learn about the great history of Australia in the fantastic museums and art galleries. The way people communicate to each other in Australia is fantastic and natural. You can enjoy a good conversation with anyone because they are warm and friendly; they will always be willing to help you in whatever they can. When you talking with people and you hear their stories, you learn more.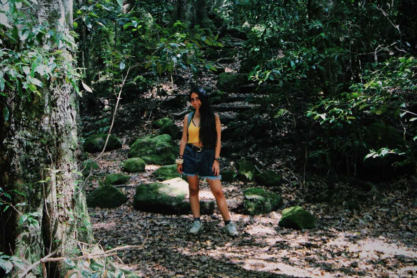 One of the most beautiful places I have visited is, for example, Palm Beach, a beach that, fortunately, leaves you speechless. There are other cozy beaches such as Manly Beach or Tamarama beach where the color of the water is beautiful. I also liked visiting Blue Mountains: when I immersed myself in nature, walking, seeing those waterfalls and those blue mountains I felt happy. There are many places to discover and explore. I like for example the green and enormous parks in which you would spend hours chatting. The combination of nature, sea, buildings and friendly and respectful people makes Sydney an unique city. Having been in Brisbane has allowed me to discover more magical corners. Australia has never ceased to amaze me. Even when you plan to go somewhere you end up in a better place.
Having been studying English in Sydney and then doing my internship in Brisbane at the school has been a unique experience. Without a doubt, I recommend this school and above all, the great adventure that I am living. It is true when they say that Australia has a special light and I am completely aware that it is a different place and that choosing this path has meant a before and an after.
I have lived, loved and learned.
Sometimes, you have to jump to find happiness.
Sandra Escudero
English student in Sydney and Intern in Brisbane
Related Blogs: