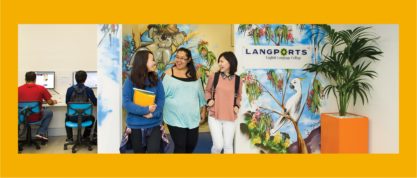 To enrol with Langports English Language College
or Langports Sydney follow these 6 easy steps:
Choose your course of study and decide when you want to start classes.
Download the enrolment form here: https://www.langports.com/wp-content/uploads/2019/02/Langports_2019_Enrolment-form.pdf
Read the terms and conditions and complete the Enrolment Form. Please don't forget to sign it!
Send the Enrolment Form to your agent in your country or send it to: info@langports.com
When we receive your Enrolment Form, we will send you a Letter of Offer, Enrolment Acceptance and an Invoice for payment.
Please forward your fees in full and sign the Enrolment Acceptance letter and send it back to us. We will then send the appropriate confirmation documents (including the COE if you are applying for a Student Visa). If you are applying for a Student Visa you must show these documents at the Australian Embassy when you apply for your visa. Please check with the Australian Embassy if any special visa conditions apply to your country.
Langports' minimum age for enrolment is 16 years old.
Thank you for choosing Langports.
If you have any doubts about the regulations of studying in Australia and student's rights, please look at this website. https://internationaleducation.gov.au/regulatory-information/pages/regulatoryinformation.aspx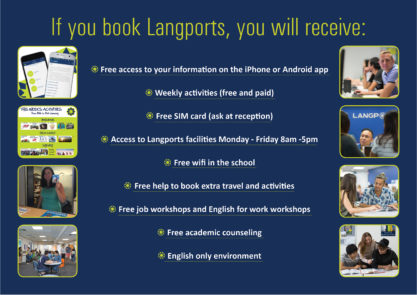 If you book Langports, you will receive: Free access to your information on the iPhone or Android app  |  Weekly activities (free and paid)  |  Free SIM card (ask at reception)  |  Access to Langports facilities Monday – Friday 8am -5pm  |  Free wifi in the school  |  Free help to book extra travel and activities  |  Free job workshops and English for work workshops  |  Free academic counseling  |  English only environment
Langports English Language College and Langports Sydney offer the following courses:
Click on the course of your interest to find more information.