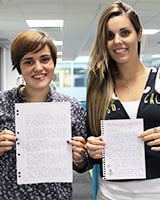 Essay Writing Competition
11.04.2013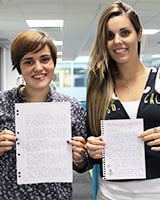 On the first official day at the new Brisbane campus, Langports' CEO John France, asked students to enter in an essay writing competition. The topic given was 'What do you think of the new campus?'
The essays were submitted to and marked by Dave Lowe, the Director of Studies at Brisbane. Soon after the announcement of an essay-writing competition, Dave received lots of essays written in English by international students. Most of the entrants had studied at the campus on Ann St and some students who entered had just arrived.
After a few days of sifting through the essays submitted, Dave chose the winners and awarded them with prizes! The winners were Emily Mendes and Silvia Barragues Santidrian. Big Toblerone chocolates were given to the runners-up Selina Gabriel, Luz Ayda Palacio, Sueli Cocqueiro, Danae Valterio, Himari Nakajima and Marcella Lima da Costa.
"I was really impressed by the quality of the essays we received," said Dave. "Some really good writing.  I think the students are really impressed by the new building: the sofas are comfy (maybe too comfy — it's sometimes difficult to get students to go back to class!) and the facilities are great.  The one thing that lots of students mentioned was that they were a bit worried about the change but that, although the building is new, there are still the same great teachers (and Linda's same lovely, smiling face when they walk in!)."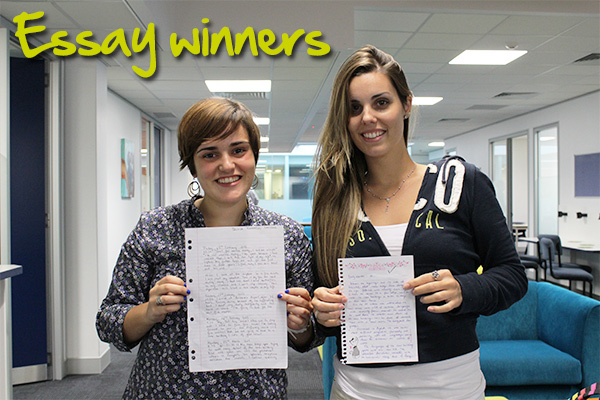 Here are some excerpts from the winning essays: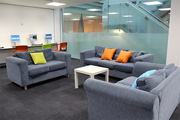 "…and I come to the lunch area, full of tables and a modern kitchen with many microwaves. On the second floor I find some table-tennis! I can perfect my game and maybe… Maybe one day I will reach the semi-final! Everywhere I look, there are sofas brightly coloured as well as comfortable and lots of new computers! … Only one things remains the same: Dave keeps his office door open, Linda continues smiling and Keilie is as funny and crazy as always. They make me feel safe and at home." — written by Silvia
"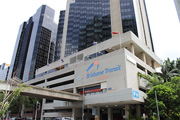 Between the beginning and the end of Herschel Street, near busy Roma St Station, my eyes followed with curiosity even before I turn the corner. In a few steps, we'll be inside the new building, or better to say, in our new home… The colourful furniture connects with the traditional navy blue Langports logo. The new design is a good combination with modernity. The extension of the lounges to the classrooms is comfortable and convenient for our breaks." — written by Emily
It was great to read about the fantastic feedback students have about the new building and it was even better to see it written in English!