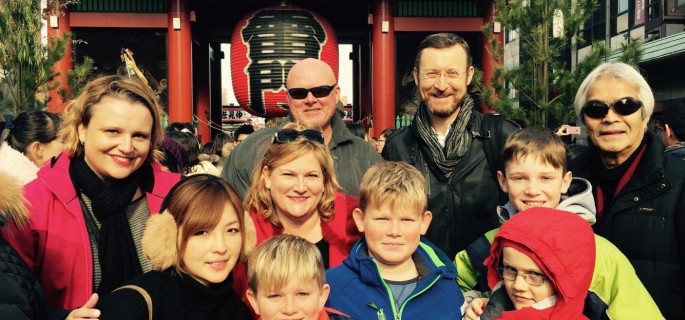 Testimonial from a Host Family
10.02.2016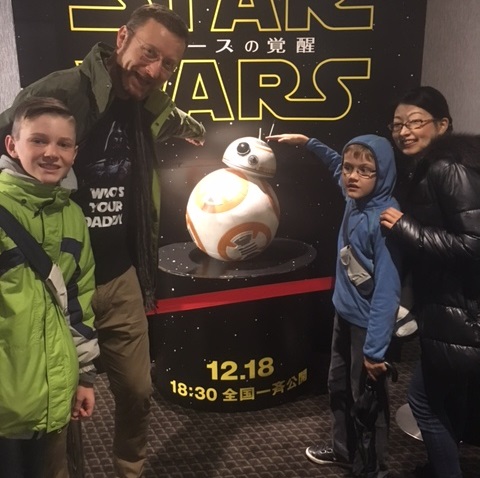 Students choosing to stay with a host family often create a strong bond and share great moments with their host, discovering a new way of life. But this is also applicable for the host families. In fact, Paul and Carlie have hosted many Langports students. This year, while they were traveling in Japan, they decided to contact the students who lived with them. Read their incredible story!
————–
We just wanted to take the opportunity to thank Langports.  The reason why is for introducing us to so many wonderful Japanese students over the years who we have kept in touch with, and who treated us like the royal family on our recent visit to Japan!
Firstly, we met up with Aki in Osaka.  We hosted her in 2010, she was our second homestay student!  She is still working as an accountant and performing in Kabuki theatre in her free time!
In Tokyo we met with Yuki who we hosted in 2012.  She is married and due to have her first baby this Easter!  We spent a couple of days touring around with her and her husband and her Father.  They took us to Yokohama for a day to see the Ramen museum and Cup Noodle Museum and to a traditional Yakitori restaurant in Tokyo for dinner.
On the second day we met them with the another family (Steve, Kath, Angus & Macky) in Asakusa and visited the Skytree tower.  The Perrin and Rice boys proudly say they now have a Japanese Grandad, they really took a shine to Yuki's father, Masahiro!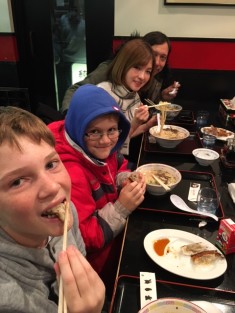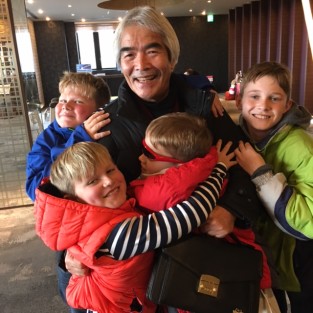 The two girls from the 2015 Easter group last year, Mai and Misa came to meet us in Tokyo for a day.  They each travelled 2 hours by Shinkansen to meet us and neither had seen each other since they'd left Brisbane.  We met them in Harajuku and visited the Meiji shrine together and shopping in Harajuku and Shinjuku districts.
And Miho, who stayed with us in 2013…….her family invited us to join their family on New Years Day for a traditional Shabu-shabu meal and we met her whole family including grandparents, aunts and cousins!  This was such an honour and privilege.  Miho is now a domestic flight attendant for ANA airlines and is using her English (which is outstanding!) and hoping to get into international flights very soon.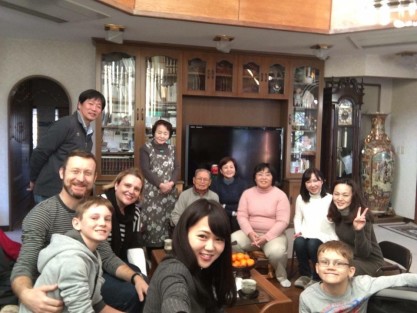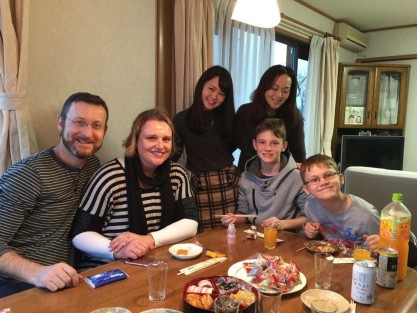 We were so spoilt by all these wonderful families, and we really do feel like we have our own extended Japanese family.  I'm so pleased to have kept in touch with them all and to see where they come from, how they live, and to have met all their families.  All of the relatives we met, thanked us for looking after them when they came to stay with us; and it made us realise what a positive impact we have made on these students & their time in Australia.  Meeting these families was the highlight of our trip, thank you again Langports for helping us in making these wonderful connections!