The Langports Games!
21.05.2014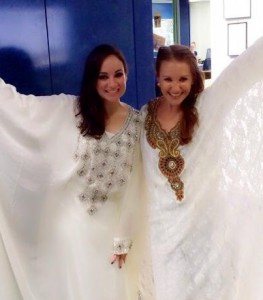 Hi, we're Nichole and Aline and we're a part of the Student Services team at Langports Gold Coast and last week we organised and went along to Langports Games.  Langports Games are in their 6th year now, and this year we moved to a new sports ground at Runaway Bay on the Gold Coast.
For the Gold Coast students the day started early, meeting out the front of the school to have their hair and faces painted in green to support their team.  There was a great vibe amongst the students and staff before we even left to get to the Games.
It was raining when we got to the sports centre, but that didn't seem to dampen anyone's spirits.   The Brisbane students and staff were all ready to go, dressed in blue, beating a drum and ready to support their classmates.
With the change in venue, we also had a small change in sports played — this time we had soccer, touch football, volleyball, basketball, table tennis as well as running races.  Both sides performed well on the day taking home a few trophies each, but ultimately the Gold Coast were the winners, and we were able to bring home the cup again!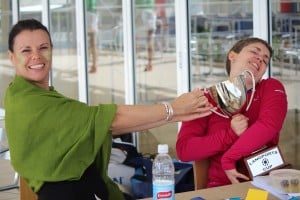 We would like to thank all the staff from both campuses for their support in the lead up to the Games (and of course on the day), and also thank the students for coming along to many training sessions and their great enthusiasm on the day.  We look forward to the next Langports Games in six months' time.
If you wish to view more picture, don't hesitate to go on our Facebook Page.