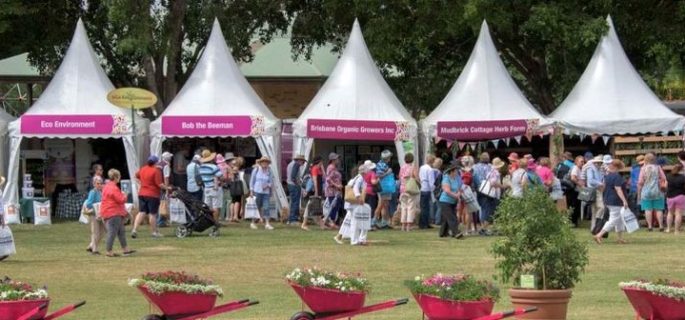 Spring activities in Brisbane, Gold Coast and Sydney
28.09.2016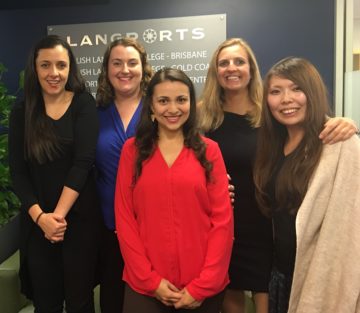 Hello from the Marketing Team! Today, we would like to talk about the great Spring activities from September to November in Brisbane, Gold Coast and Sydney.
Spring is a beautiful season and there are plenty of activities that you can enjoy in Australia. We have picked several enjoyable places and events in the three cities.
Firstly, we would like to introduce Spring activities in Brisbane;
1. Oktoberfest Brisbane 2016
This family-friendly festival is filled with the most authentic German food, beverages, traditional entertainment, rides and activities. It will be held from 7-9 & 14-16 October 2016 in Bowen Hills. The ticket costs between $15 to $27 . Alcohol is provided and please bring your valid photo ID. Free entry for under 18 years, but they must be accompanied by and supervised by a responsible adult at all times. https://oktoberfestbrisbane.com.au/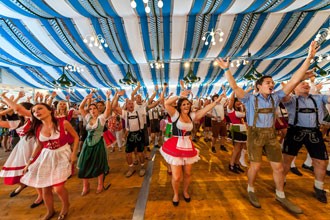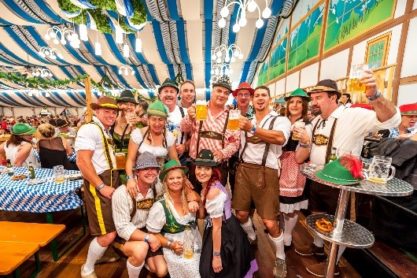 2. Brisbane International Garden Show
This event showcases the unique Queensland gardening style and brings landscape gardening displays and gardening experts will provide workshops. This event will be held from 6th to 9th of October from 9:00 am to 4:00 or 5:00 pm (depending on the date). Adult Entry (1 Day pass) costs $20 per person. It takes 15 minutes to walk from Strathpine station. http://www.brisbanegardenshow.com.au/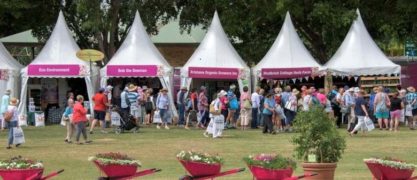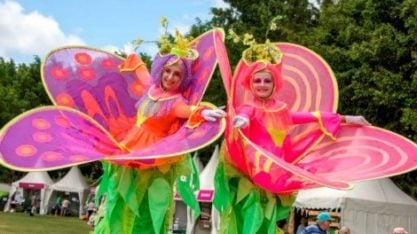 3. Australia Zoo
Australia zoo provides not only a haven for our collection of over one hundred different species including Steve's favorites the Crocodile, Tiger, and Cheetah but is also a great platform for those same animals to act as ambassadors for their cousins in the wild. You can feed Kangaroos and the Kids Zoo Babies. Australian Zoo is open daily 9.00am – 5.00pm except Christmas Day. The Australia Zoo is located an hour north of Brisbane and you can take The Australia Zoo courtesy coach at the Beerwah Rail Station. If you can find it, call the Zoo on 5436 2000. http://www.australiazoo.com.au/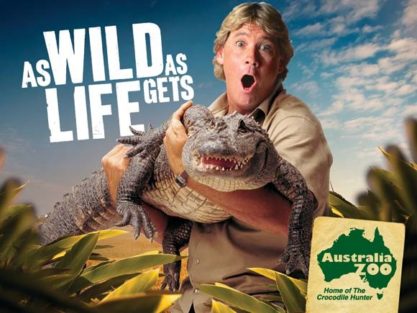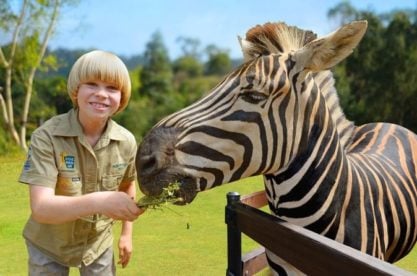 4. Lone Pine Koala Sanctuary
Lone Pine Koala Sanctuary is the world's first and largest koala sanctuary with over 130 koalas and over 100 other species of Australian native wildlife. You can hold a koala and take pictures. Also, you can feed kangaroos by your hands. Open 7 days a week from 9:00 am to 5:00 pm. Every Friday, from 3:00 to 7:00 pm, there is a farmer's market in a carpark and FREE weekly movie screenings also run every Friday night, around 6:00 pm! http://www.koala.net/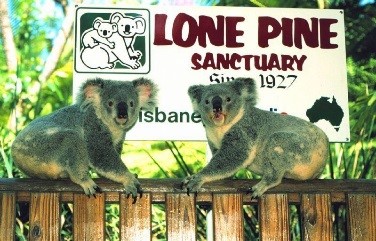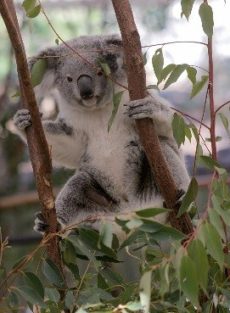 5. The Medibank Feel Good Program
Are you looking for something healthy? Do you think you need exercise? Free fitness classes, such as Yoga, Pirates, Zumba etc. are provided for you! They are 45 munities classes. All weekday classes take place at the southern end of the Little Stanley Street Lawns and the Aqua Aerobics class on Saturday takes place at the Boat Pool (next to Streets Beach). Bookings are not required. Just grab your water bottle and towel (and some classes require a yoga mat if you have as there is a limited number of yoga mats). Classes are from Monday to Saturday. http://www.visitbrisbane.com.au/feelgood/program?sc_lang=en-au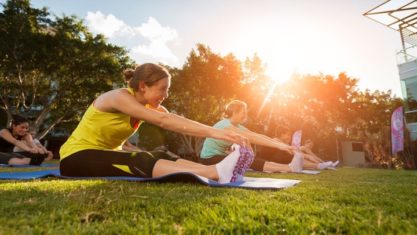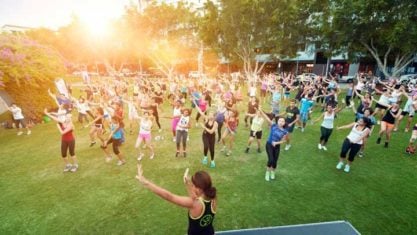 Next, we will introduce events in Gold Coast;
1. Gold Coast Festival of Lights
This festival is a celebration of Chinese culture, featuring spectacular large scale light instillations, live cultural performances, traditional Chinese handcrafts and cultural cuisine. This event will be ended on the 3rd of October 2016. The festival opens 7 days a week from 6pm and is held at Southport Broadwater Parklands (South end). Ticket is required. http://www.goldcoastlightfestival.com.au/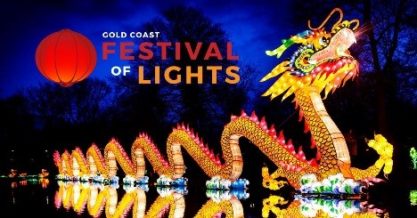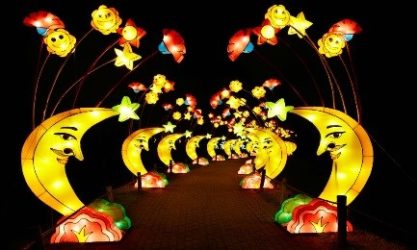 2. Gold Coast Bonjour French Festival 2016
The festival will cover activities related to French Cuisine, Arts & Crafts, History, Music, educational activities and Sports. This event will be held on 11th (5pm-10pm), 12th (9am-10pm), and 13th (10am-5pm) of November 2016. The festival is located in the Kurrawa Park, Broadbeach and the closest station is the Broadbeach North where is walking distance. A ticket is $5 per person. http://www.bonjourfrenchfestival.com.au/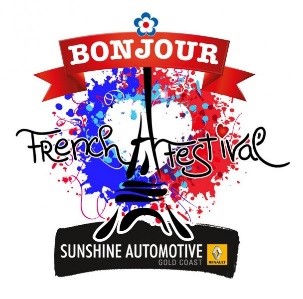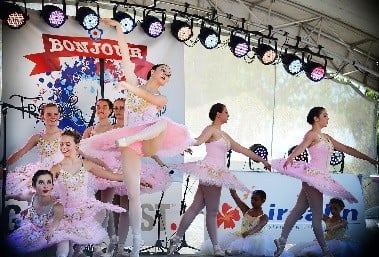 3.Currumbin Wildlife Sanctuary
In Currumbin Wildlife Sanctuary, you can cuddle a koala, feed a friendly kangaroo, and experience the wild lorikeet feeding, free-flight bird show and Australian a sheep shearing. Also, there are Dingos, Emus, Rainbow Lorikeets, Tasmanian Devils, Wombats and more animals. You need to get a ticket and currrently, Currumbin Wildlife Sanctuary offers a special price, $35 per person on their website until 30 November 2016. Bus routes 700, 760, 767, and 768 take you to there. http://www.cws.org.au/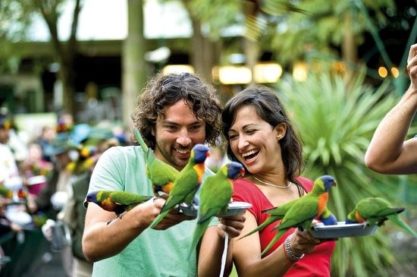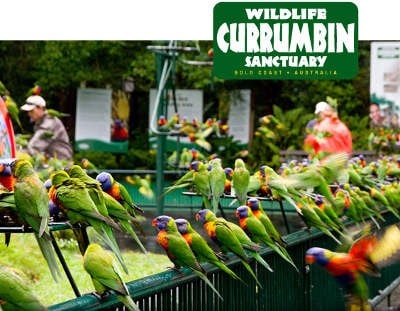 4.Theme parks (Dream World, movie world, Wet and Wild sea world)
On the Gold Coast, there is a group of Theme Park which offer entertainment attraction, rides and other events for the enjoyment of large numbers of people. Dreamworld: https://www.dreamworld.com.au/ Movieworld: http://movieworld.com.au/ Seaworld: http://seaworld.com.au/ wet and wild: http://wetnwild.com.au/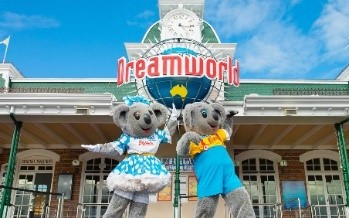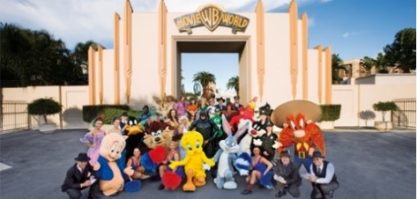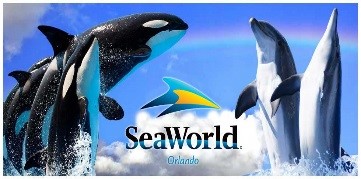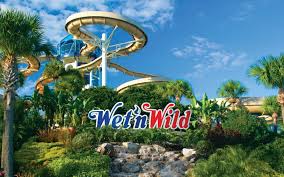 5. Buskers by the Creek
If you love music or/and entertainment, Buskers by the Creek would be great. A variety of singer/songwriters, artistic fire, magicians, bands and dancers will showcase their talents. It is recommended to take your picnic blanket if you have. You can sit and relax with the music. Buskers by the Creek will be on 15th and 16th of October 2016 from 10:00 am to 6:00 am. This is a Free Entry event. The event is located in Winders Park, Duringan Street, Currumbin. http://www.buskersbythecreek.com.au/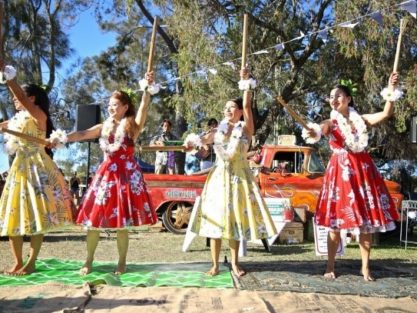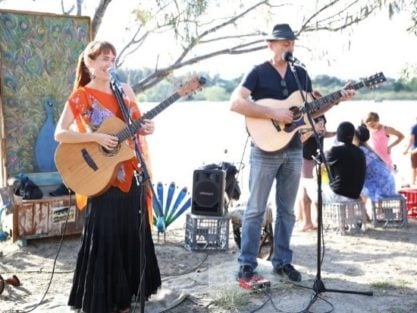 Also, Sydney has great activities;
1.Good Food Month – Night Noodle Markets
Good Food Month runs for the whole of October in Sydney and it means that there are an array of foodie events happening around town. At the Night Noodle Markets, you can experience an incredible line-up of entertainment under the stars with amazing Asian food (more than 40 food stalls) and drink. This year, the Night Noodle Markets is bigger than before and the cash-free event so grab your card and go! The event is from 6th to 23rd of October 2016 in Hyde Park, Elizabeth St, Sydney. https://www.goodfoodmonth.com/sydney/event/#/?id=82288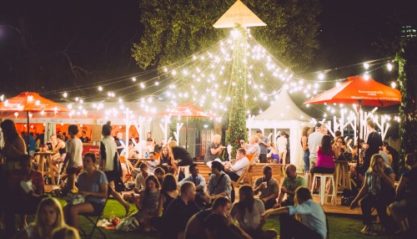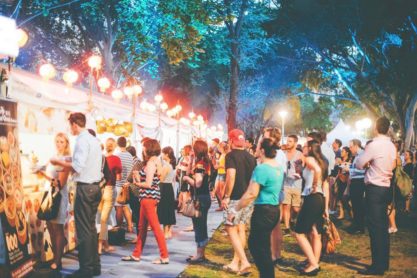 2.Taronga Zoo Sydney
Taronga Zoo is a NPO organization supporting wildlife conservation. This zoo is an Australia's leading zoological park, featuring a comprehensive collection of both native and exotic species. There are over 4,000 animals to see, over 20 keeper talks and shows a day, tours, events and concerts. On the 7th of October 2016, Taronga Zoo will celebrate their 100 years' birthday! On the day, you will NOT be able to buy a ticket to come to the Zoo because the Zoo will be closed to the general public due to the birthday party. However, you can join in a birthday parade in Sydney CBD on 15 October 2016! The parade will start from Hyde Park at 8pm. Taronga Zoo is just 12 minutes from the city by ferry and open daily including Christmas from 9.30am except Friday 7th October. http://taronga.org.au/ Taronga Zoo Birthday (100 years) https://taronga.org.au/100-years/centenary-events/birthday-parade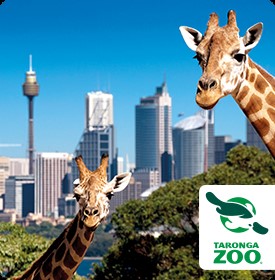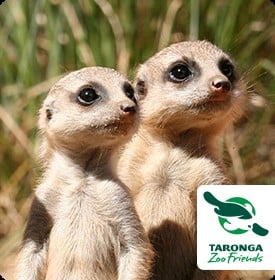 3.Manly Jazz
Manly Jazz remains as an iconic event for Manly and greater Sydney. The thirty-ninth annual. Manly Jazz presents the diversity of music, from traditional New Orleans jazz to funk, Latin, fusion, blues, gospel, swing and roots. The event will be held on the 1st, 2nd, and 3rd of October 2016. You can get to there by public transport. Ferries and buses are great options. http://www.manly.nsw.gov.au/whatson/manlyjazz/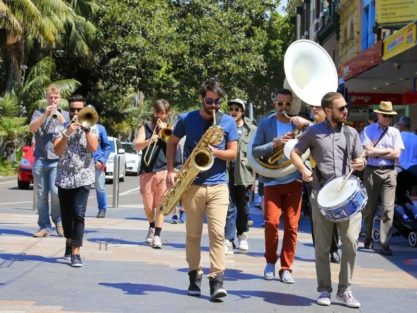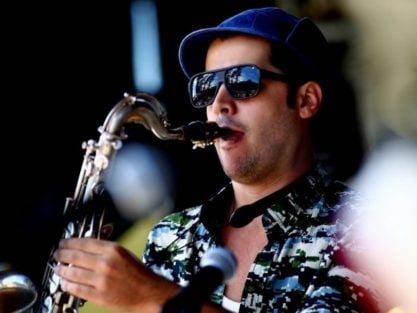 4. Fashion Weekend Sydney
Are you crazy for fashion? At the Fashion Weekend Sydney, 100+ Premium Brands are selling their collections at HUGE discounts (up to 70% off). You can update your wardrobe for Spring and Summer! Also, there are catwalk shows, manicures, hair styling, make overs, DJs etc. The event takes place from 29th of  September to the 2nd of October 2016 at the Royal Hall of Industries, Moore Park. A ticket is from $20. www.fashionweekend.com.au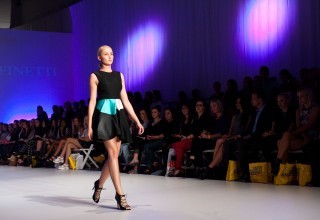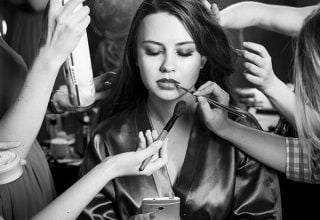 5.The Norton Street Italian Festa
The Norton Street Italian Festa has been running for 30 years. This is one of the largest community street festivals in Australia and more than 100,000 people participate in the festival. There are all things Italian, such as markets with great food, entertainment, concerts, dancing and free cooking demonstrations. The event will run on the 30th of October 2016, from 10:00 am to 5:00 pm and entry is free. The Festa takes place on Norton St, between Marion St and William St and it is easy to reach there by public transport. http://www.nortonstreetfesta.com.au/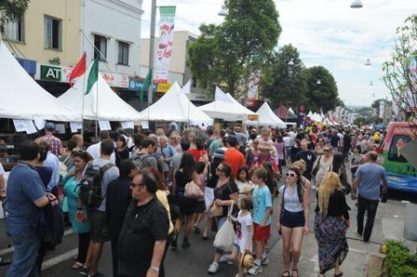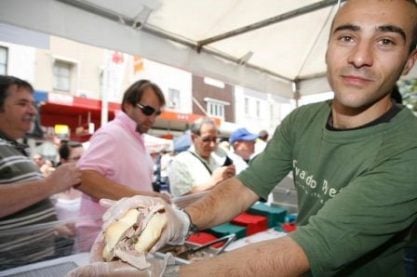 These are Spring activities that we would like to recommend. We hope you will enjoy your Australian life through these activities with a full of fun.
Also, Langports has many activities every month. Participating in activities could be a good opportunity to practice your English, make new friends and spend great time with them. Checkout the activities planned for October by clicking on the links below:
Langports Brisbane October activities; https://www.langports.com/wp-content/uploads/2016/09/Brisbane-activities-calendar-October-2016.pdf
Langports Gold Coast October activities; https://www.langports.com/wp-content/uploads/2015/10/GC-Activities-Calendar-October-2016-1.pdf
Langports Sydney October activities; https://www.langports.com/wp-content/uploads/2015/10/SYD-Activities-Calenday-October-2016-1.pdf
Thank you! 🙂