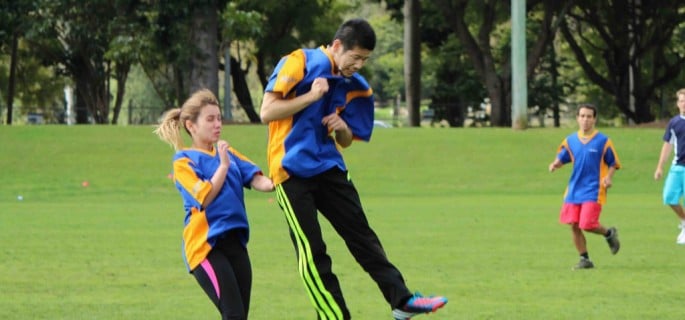 The Annual EA Queensland Football Tournament
01.08.2012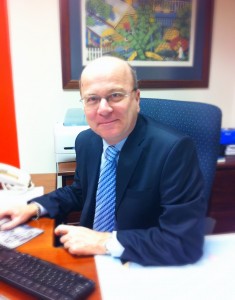 The Olympics is the largest and most complicated sports event to organise — the EA Football Tournament is a little easier!!
Hi everyone. My name is Robin and I am the principal of the Brisbane campus. I have been organising this event for English Australia Queensland for the last 7 years and on Saturday 21st July we held the tournament again at the University of Queensland campus at St.Lucia and it involved 12 teams from different English Language schools around SE Queensland including university centres and private schools.
How does it happen? We need pitches, referees, linesmen, teams, first aid, catering, a trophy and medals, and a few other things like footballs!  Once the teams arrive on the day, the first question is "Who are we playing against?" — the tournament draw is done independently by UQ Sports, so I can't be accused of giving  the Langports team an easy draw!! Each team plays a minimum of 4 x 20 minute matches, so everyone gets to play a reasonable amount.
Langports finished 9th out of the 12 teams after 4 rounds, winning 1 match, drawing 1 match and losing 2 matches. However, our team played better than these results indicate. We had the best girl players with 3 girls playing for us, Emilie, Levke and Carol, which was awesome. A couple of other teams also had a girl playing for them which was good to see. As we had a good mix of nationalities in the team, our English Only was excellent ( Dave is happy!), unlike another team, who shall remain nameless, who should be nominated for the best Portuguese Only school!!!
The four teams that get through to the semis and the final often  do it on goal difference or  on penalties which adds to the excitement. This year the tournament was won by Navitas who played in the final against ICTE-UQ, but the real winners were all the teams who played good football with great  sportsmanship. Nobody got sent off, nobody had to be carried off, although there were a few minor injuries from tough tackles, but everyone had a good time and it did not rain!
I am looking forward to next year already when hopefully Langports can win the cup again. Yes, we won it in 2009!! Go Langports!!!!!