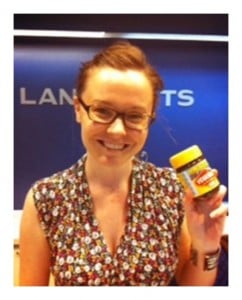 Vegemite, An Aussie Icon
19.06.2012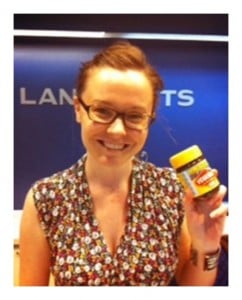 Hello!  My name is Nadine and I'm the Student Services Manager at Langports' Gold Coast campus; I'm also a happy little Vegemite.
"What's a happy little Vegemite?"  I hear you ask… Well, Vegemite is a uniquely Australian spread and an Aussie icon.  Since the 1950's the jingle has been heard all across the nation, and known off by heart by most Aussies.
"We're happy little Vegemites
As bright as bright can be
We all enjoy our Vegemite
For breakfast, lunch and tea
Our Mummies say we're growing stronger every single week
Because we love our Vegemite
We all adore our Vegemite
It puts a rose in every cheek!"
 Did you know that over 90% of all Aussie households have a jar of Vegemite in their kitchen pantry?
Based on its deep brown almost black appearance, you may think it will taste like the popular hazelnut-chocolate spread 'Nutella', but you'll be completely surprised.
Vegemite is generally enjoyed on a slice of buttered bread, or toast, often for breakfast or as a snack.  Growing up, school lunches would generally consist of a Vegemite sandwich.  Nowadays, some people like to mix it up by adding some cheddar cheese, or even avocado and ricotta cheese.
To be honest with you, Vegemite actually has rather an acquired taste, and unless you've been brought up on it, you may find it hard to stomach.  It's often said that you'll either love it or you'll hate it — me, I can't get enough of it!
Want to know what it tastes like?  Well you'll have to buy some and try it out yourself — a true Australian culinary experience.
Beginners guide to Vegemite:
1)   Toast bread (white bread works best, but grain / wholemeal works well)
2)   Smear bread with butter or margarine
3)   Dip knife in vegemite jar
4)   Halve the amount on knife
5)   Halve the amount again
6)   Spread sparingly on to toast
7)   Take a bite 🙂
For more information on the origins and ingredients in Vegemite, see http://www.kraftbrands.com/kraftvegemite or http://en.wikipedia.org/wiki/Vegemite