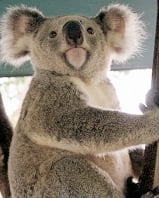 Volunteer Experience at Lone Pine Koala Sanctuary
04.09.2013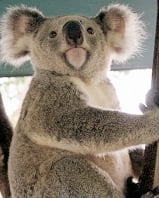 We are two French girls. We are 18 and 20 years old. We wanted to improve our English in an English speaking country. That is why, as part of a language course in Australia, Brisbane, Langports English Language College offered us the following program: of "UFO English " courses at Langports then two weeks of volunteer experience at Lone Pine Koala Sanctuary.
So after our study, we went to the koala park.
When we arrived at the park, we met Karen, who welcomed us, explained the course of working days and delivered our T-shirts.
Our days started at 8.30am and finished at 3.00pm. They were always held in the same way. Once arrived at the park, a keeper came to tell us in what area we would work (koalas, kangaroos, birds, mammals, barn animals). Then we had a break at 10.00am. The lunch break took place around 12.30am for one hour. The work involves cleaning animal enclosures, preparing their food and feeding animals always in the company of our tutor. Each sector is different: for example, with mammals we spent much time preparing food. On the other side, with birds, We were more focused on cleaning. But in all sectors, we had direct contact with the animals.
We discovered the typical animals of Australia as we never would have discovered without this experience. Moreover, the contact with the staff helped us in our learning English and allowed us to communicate in an environment other than school.